Local surfer Michael deNicola recounts his 'long ride' from Boomers to Charthouse
By PABLO CAPRA
Special to The Malibu Times
Every surf spot has its champion of the long ride. There's Laird Hamilton trimming from Little
Dume to Paradise Cove, Allen Sarlo starting from Third Point and shooting the Malibu Pier … and, in the last swell, Michael deNicola connecting Boomers to Charthouse.
DeNicola grew up watching swells wrap around the coast from his grand- parents' hillside home in Castellammare, Pacific Palisades. He'd already imagined his future ride after noticing that the biggest waves would sometimes wrap around two points before expiring. He joined the USA Surf Team at 19, turned pro, then created an international surf contest called 5X. In the late 1990s, he began building an art career around his colorful, graffiti-like paintings. In 2010, he produced a film about Santa Cruz surf- ers called "The Westsiders."
Stars aligned for his long ride on Jan. 5. The Harvest Buoy off Point Conception measured a wave height of 26.9 feet, the biggest winter swell in decades. The rain cleared up in the morning, and the tide receded to a low -0.8 feet at 3:08 p.m., which was necessary for success.
"On the way to the beach, I told my buddy Jesse Faen [also a former pro] that this could be the day I'd make it to Charthouse," deNicola says.
Conditions were so hairy that a fire truck waited on the bluff for an accident to happen. Most surfers couldn't paddle out through the windswept giants. deNicola got a push by jumping into the muddy creek as it rushed into the ocean.
"It wasn't a beautiful day to surf, but I was excited by the energy in the water," he says. "I rode a 7'7" board, shaped by Bruce Fowler, with a quad setup that had a fifth fin the size of a guitar pick to help with turns. We'd been playing with that design for about six years."
The only others who made it into the lineup were Faen and Quinn Williamson. (An earlier session had been surfed by Edwin Martin, Richard "Evy" Evans, and Mo Magee.)
deNicola caught a number of waves while searching for his outlier. Around 4 p.m., with sunset approaching, he took off on one that allowed him through every section. He surfed past the lifeguard tower, the stairs, the Malibu Feed Bin, until, suddenly, the next point loomed up ahead.
"I knew I definitely didn't want to get stuck in those rocks, so I did everything I could to keep moving, even as the wave began to flatten out," he says.
The first to realize that something remarkable was happening, Martin narrates, while filming, "He's going to make it to Charthouse."
Tristan "Red Dog" Welch filmed the ride's end from the parking lot of Mastro's Ocean Club. He and his friends were shocked when deNicola appeared. They ask, "Where is he going?" and "Does he have a motor on that thing?" Then Welch declares, "That's the wave of his life," and they begin to cheer, "Make it!" until the half-mile ride ends just past the restaurant.
"I was high on adrenaline from the victory, but my legs were so tired that I practically had to crawl out of the water," deNicola says. "I started surfing at 12. I've surfed big waves all over the world. I've had injuries that I thought would prevent me from ever surfing again. Yet, at 55, I'd experienced a breakthrough at a beach I'd been surfing my whole life. It feels even more special to find a great wave to yourself in a city as populous as Los Angeles."
The only other time that someone is known to have accomplished this feat was in the winter of 1998-99 (Surfline wrongly says 1982-83), when ex-pro Donny Wilson surfed a full mile, to just past the Sunset Mesa intersection.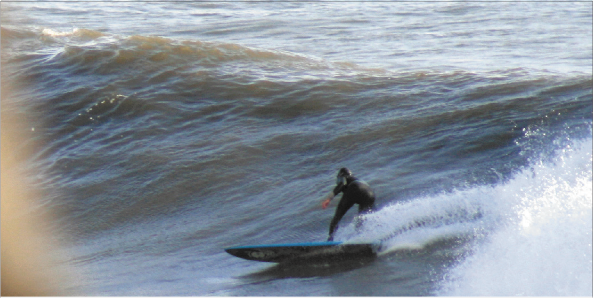 Wilson remembers: "I airdropped into the biggest wave of my life and didn't cut back once, just raced straight ahead on a 7'6" gun, shaped by Steve Wilson and given to me by Local Motion in Hawaii. Except for Allen Sarlo and Matt Wessen, nobody else was in the water."
Wilson also lays claim to being the only surfer to ride around the Malibu Pier, in the summer of 1998.
On the biggest day of the 1970s, Sept. 27, 1975, Paul Lovas rode a 9'10" gun, shaped by Robbie Dick, to the Charthouse restaurant, but didn't make it around, according to his memoir "Topanga Beach Experience" (2011).
deNicola hopes his long ride will inspire young surfers to achieve their goals. That's also the idea behind his cartoon character, Torquato, "born of water and stoke, the action hero inside each of us who says, 'Yes You Can!!!'" He currently has an art show at Paliskates, 1021 N. Swarthmore Ave., and invites surfers and skaters to bring their boards for a free spray-painted stencil of Torquato on March 25, between 2 and 4 p.m. Find out more at www. iamtorquato.com.
Pablo Capra is the Archivist for the Topanga Historical Society and author of "Topanga Beach: A History" (2020). More at topangahistoricalsociety.org.